faux wood venetian blinds
Our products
WOODEN VENETIAN BLINDS
unique style and elegance
Wooden Venetian Blinds always add unique style and elegance to every interior. Depending on the selected collection, we can adjust it to every type of interior, starting from modern to minimalist, loft, glamour, etc. Even the most demanding customers will find a colour perfectly matching their interior, because of our of many shades of gray, white, wood structure and high-gloss wood choice.
FAUX WOOD Venetian Blinds resemble wooden blinds, but are made of composite PVC and natural wood. Their advantage is resistance to all kinds of deformation, discoloration, etc. Thanks to the materials they are made of, they are perfect for interiors exposed to moisture. FAUX WOOD blinds are much heavier than wooden or bamboo blinds, therefore, for larger dimensions, we recommend equipping them with electric controls.
FAUX WOOD VENETIAN BLINDS
perfect for moisture exposed interiors
BAMBOO VENETIAN BLINDS
for demanding customers
Bamboo blinds made of high-quality pressed bamboo are the perfect choice for demanding customers. Thanks to the use of bamboo wood, these blinds are few percent lighter than typical wooden blinds. Their additional advantage are thinner slats, thanks to which the lamella package takes up less space after raising the blind up. Bamboo blinds are perfect for rooms with high humidity. Our collection includes many natural, gray and beige shades.
Unusual, bespoke shapes !!!
ONLY BY CHOOSING SUN WINNER !!!
Electrically controlled blinds in unusual & bespoke shapes !!!
Stained slats sides, covers and bottom beams.
Non-invasive installation
Haberdashery
colours
(tape & cord ladders)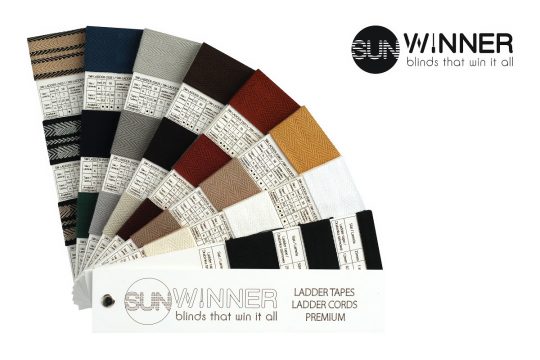 Video
Instructions
survey and fitting
Non-invasive on the window sash
interested in becoming our trade partner?
please feel free to contact us by phone or email